Luxury California King Air Mattress
With Built-in Pump for Home, Camping & Guests - 20" King Size Inflatable Airbed - Double High Adjustable Blow Up , Durable Waterproof
📌1-year warranty provided by the manufacturer included in your purchase! - King Koil enhanced king airbed technology with a - soft flocking layer and a built-in pillow. Built for maximum comfort - we stand behind our quality & warranty! warranty details in packaging and with airbed purchase.
📌Extra thick waterproof comfort quilt top with extra spinal support - firm mattress provides good sleeping posture - sueded top keeps bedding in place.
📌California king sized with coil-beam construction and a built-in 120v / 210w ac pump - inflated dimensions: 84" x 72" x 20" should you accidentally puncture or tear your air mattress, all King Koil air mattresses include patch kits.
📌Easy to use plug in internal pump allows fast & easy inflation / deflation. The King Koil mattress reaches full inflation in 2 minutes 30 seconds. The King Koil air mattress is designed for in-home use and is perfect for overnight guests, friends or relatives, and camping trips. Remember, although it holds air extremely well, you can always click the pump on for a few seconds to inflate or deflate to your desired comfort level!
📌Customer friendly 1-year guarantee offered. King Koil is the only manufacturer that is endorsed by the international chiropractors association to help promote proper spinal alignment and a healthier night's sleep.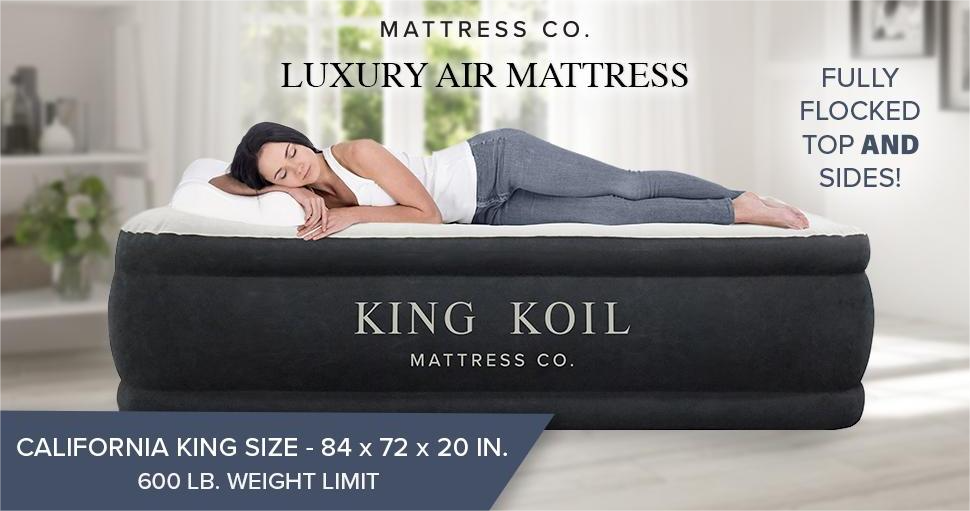 | | | |
| --- | --- | --- |
| King Koil Airbeds were designed with you in mind. Enhanced Coil Technology provides the support you (and your guests) need for a sound night's sleep. Air filled coils and internal layering naturally support the body, keeping the spine aligned as you sleep. The state-of-the-art coils also maintain the inflatable bed's shape and firmness over time. | Utilizing high-quality, puncture resistant material prevents normal wear and tear that can sink an average air mattress. The durable PVC combined with soft flockeing create a waterproof, extremely durable airbed, meant to withstand the test of time. Unlike other air mattresses, the King Koil beds are fully flocked on both top and sides with velvety soft material. | With our proprietary built-in high-speed pump, you can easily maintain and adjust the blow up bed's firmness level. Featuring separate inflation and deflation valves, the built-in high speed pump will do the work for you, and get you resting faster. Fully inflate or deflate the California King size air mattress in just 2 minutes 30 seconds. That's twice as fast as the average competing bed! Pump specs: 120V/210W |