USB-C Rechargeable, Minimalist, Portable & Lightweight, Camping/Ambient/Flashlight Modes, Ultra-Long Life (8~50h), Detachable Lampshade, Hidden Hook
🔦MINIMALIST DESIGN & ONE BUTTON OPERATION: Transparent and durable PC lamp head combined with the smooth frosted texture of the aluminum housing to create a textured, minimalist design. One button switch, rotate the light head to adjust the lighting mode, change mode gradually extinguish and brighten, fun and simple.
🔦PORTABLE & LIGHTWEIGHT: With a height of 12.8 cm and a weight of only 135 grams, it easily fits into a pocket or backpack without taking up much space. Carry it with you, to deal with all kinds of unexpected situations or wild camping, night ascending, night riding, and wild fishing. Take it anywhere as your go-to gadget.
🔦3-IN-1 LIGHT MODES: In camping mode, Light is reflected under the lampshade to avoid blinding beams of light. In ambient light mode, the central LED filament emits warm light at 360° to create a romantic atmosphere. In flashlight mode, the top bead glows upward, concentrating the light source and brightly accompanying the forward movement in the night. It suits different scenarios with the 3-in-1 light modes. Suitable for both indoor and outdoor use.
🔦ULTRA-LONG BATTERY LIFE & USB CHARGING: 3100mAh high-capacity battery supports long working hours and can last from 8 to 50 hours in different light modes and brightness (5~180lm). USB-C charging port supports a variety of charging methods, such as laptops, rechargeable batteries, sockets, and cars.
🔦DETACHABLE LAMPSHADE & HIDDEN HOOK & WATERPROOF: Unique magnetic detachable lampshade to avoid dazzling light and easy to fold for storage. Waterproof and dustproof with IPX6 rating to cope with all kinds of bad weather (dust/rain/foggy days). Multiple forms of use, enjoy the versatility of nature surrounded.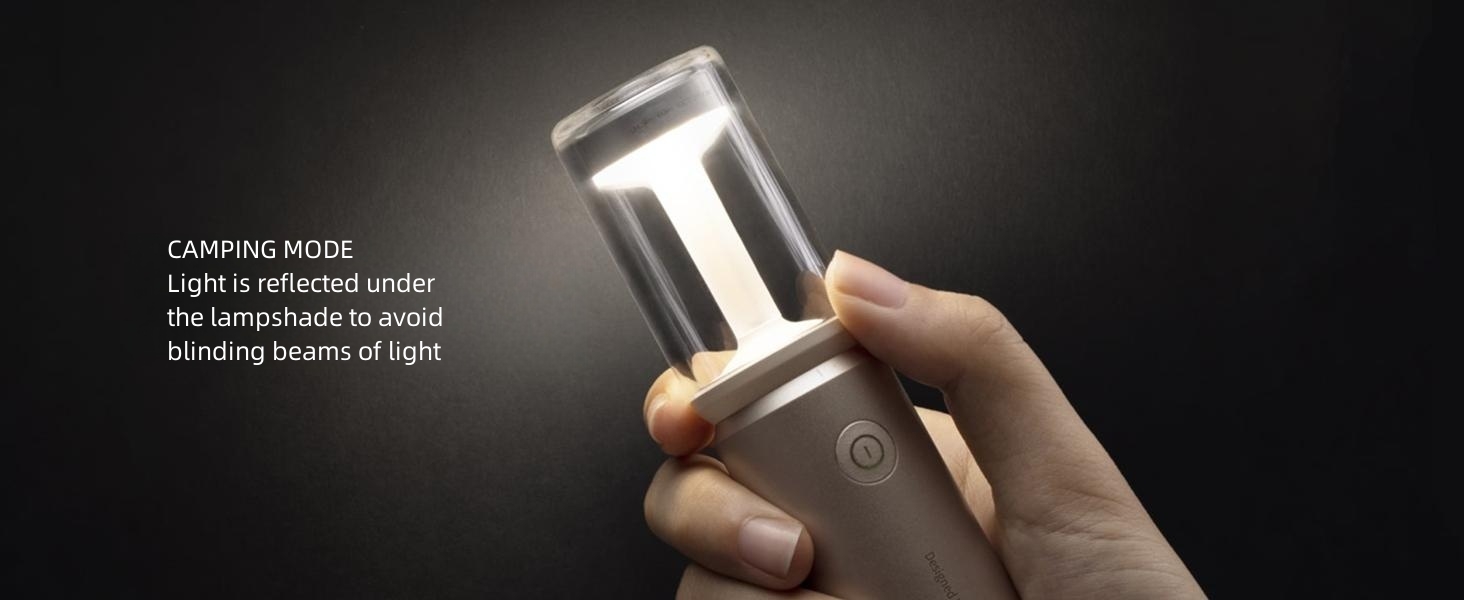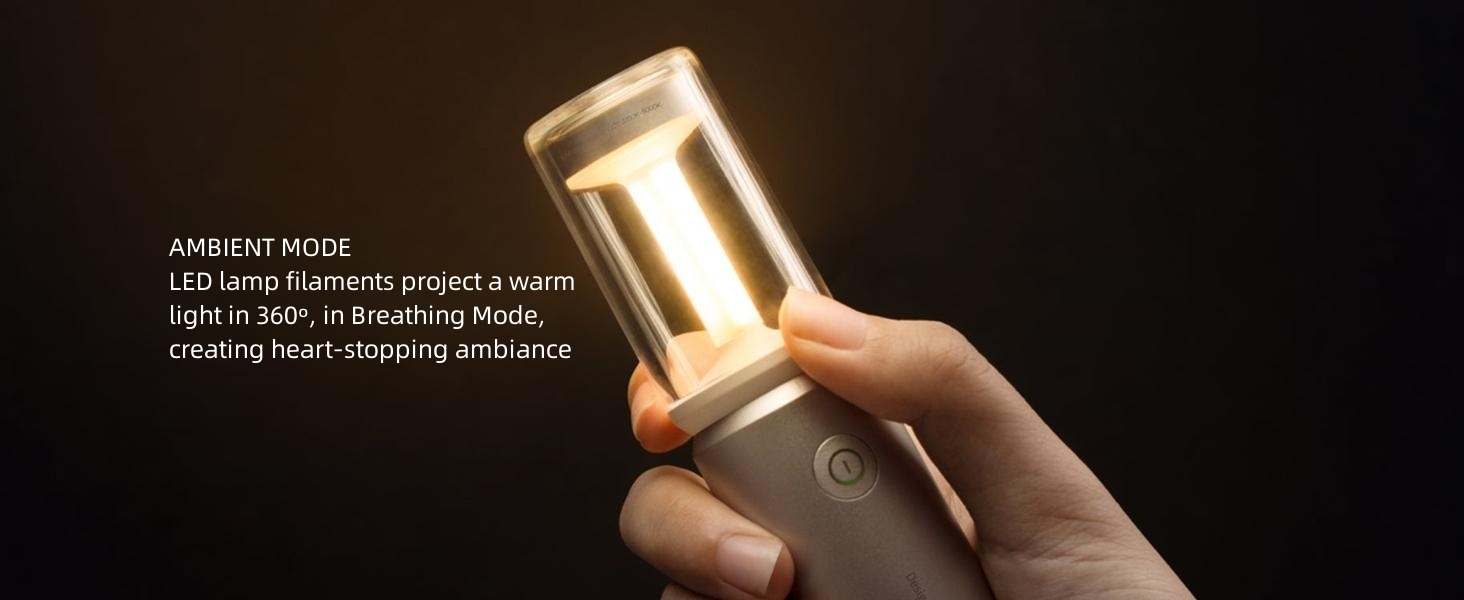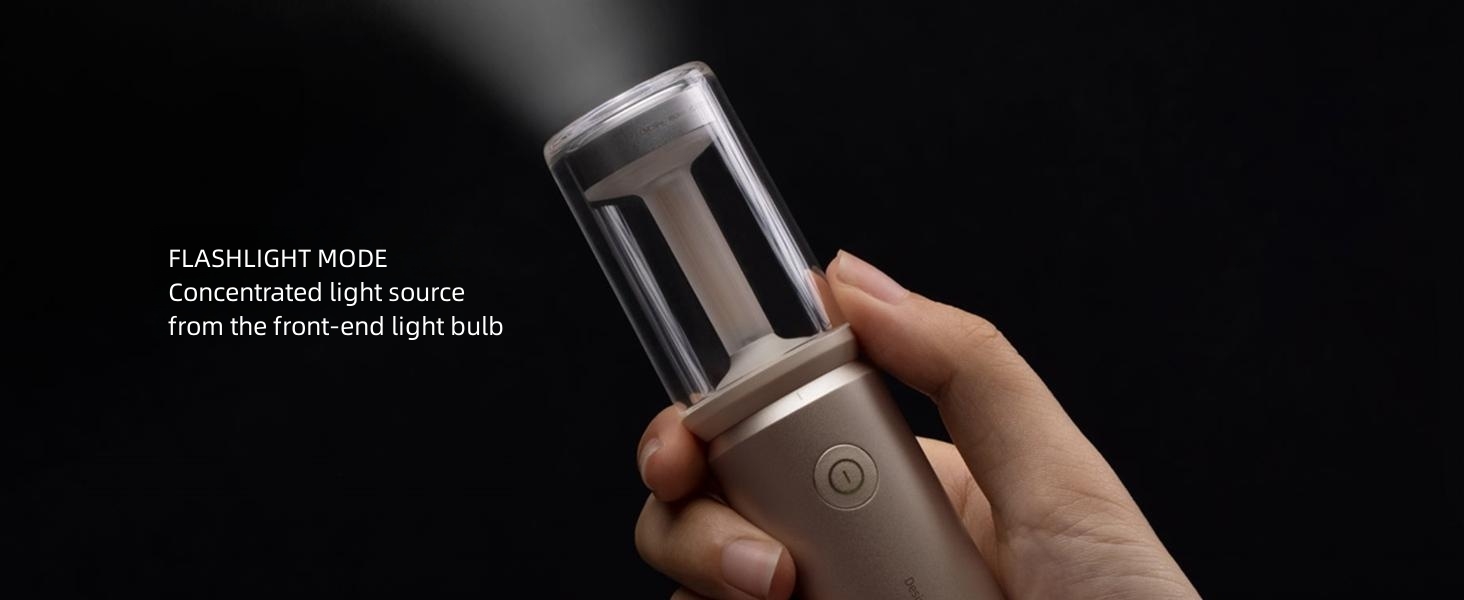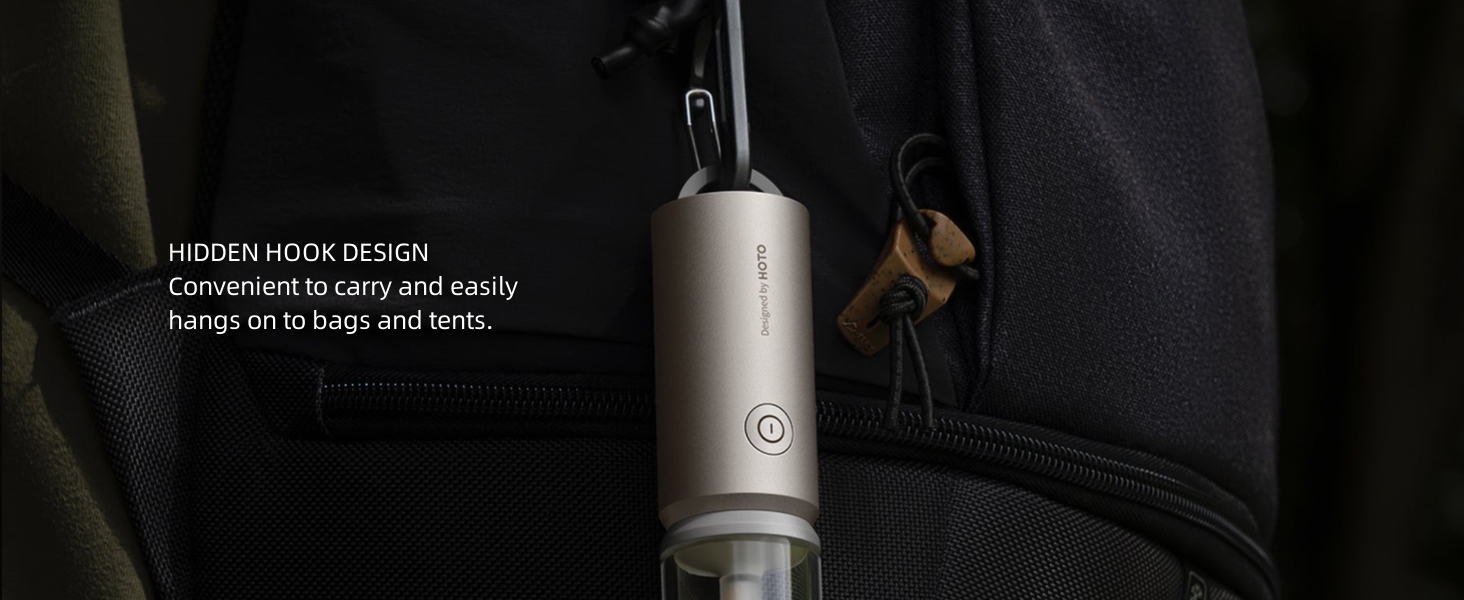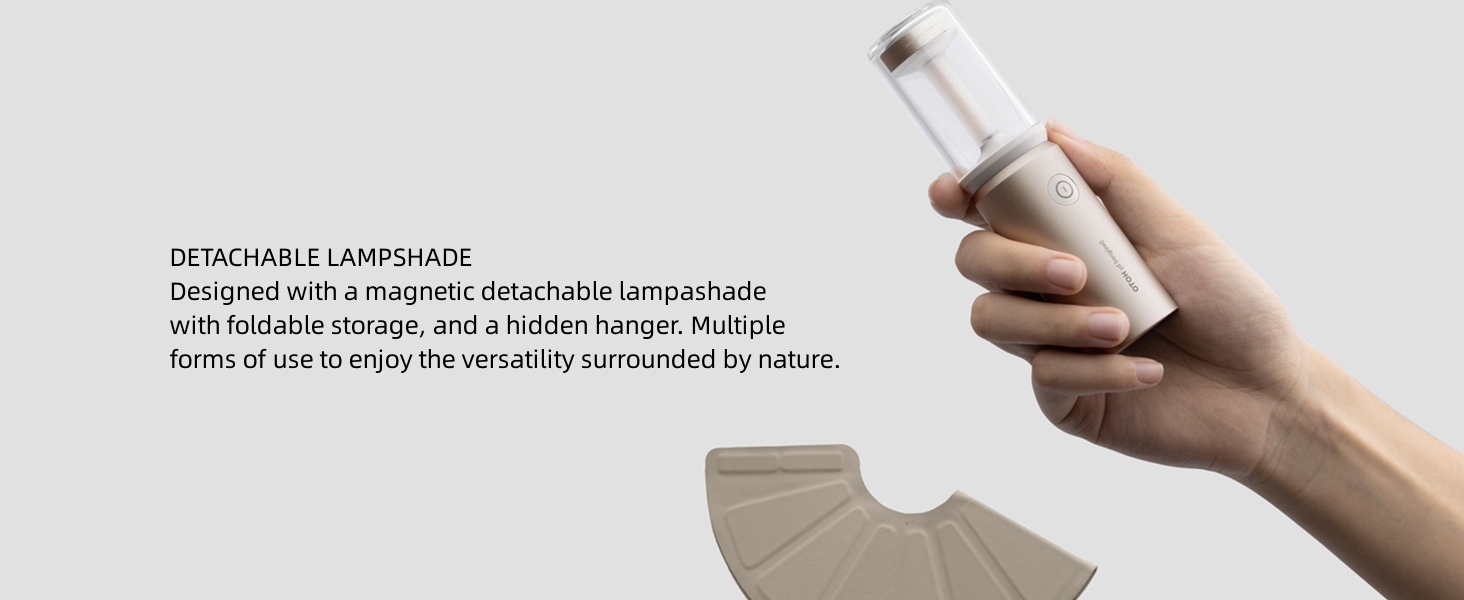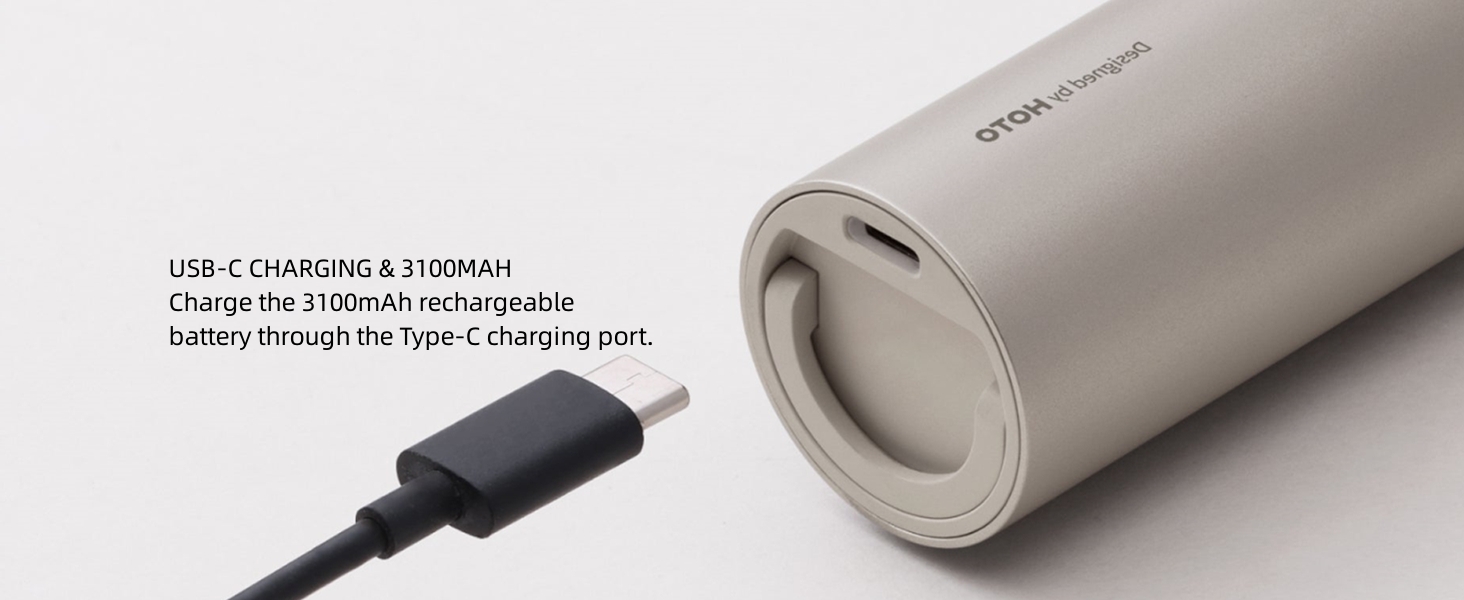 It's perfect for camping lovers! The body is 12.8cm tall and only weighs 135g. Take it anywhere as your go-to camping gadget and easily operate with a simple button: power on/off, set the mode, and regulate brightness.
IPX6 rated water-resistance and dust protection. Suitable for adverse weather conditions, and perfect for rainy day activities.
How to switch the light mode
Torch mode/camp light mode: short press to start, short press again to turn off.
Ambient light mode: short press to start, second short press to enter candle light mode (automatically and slowly change the brightness), short press again to turn off.
How to adjust the brightness
Long press the stepless dimming, and the prompt will flash when it is adjusted to the lowest/highest.
In candle light mode, the brightness will be changed automatically, long press will return to ambient light mode.
How long is the battery life
Camping light duration varies according to brightness, mode, and color temperature. Flashlight mode 10-40h, floodlight 8-40h, ambient light 20-50h, candlelight 30h.
| | |
| --- | --- |
| Special Feature | ‎Minimalist Design; One Button Operation; 3 modes: camping light, ambient light; flashlight; Magnetic detachable lampshade; Hidden hook design; Infinitely Dimmable; 3100 mAh rechargeable battery; USB-C charging port; Portable; IPX6 water resistance; 180 measured lumens |
| Color | ‎Brown |
| Power Source | ‎Battery Powered |
| Light Source Type | ‎LED |
| Material | ‎Aluminum |
| Included Components | ‎1 X Rechargeable LED Camping Light; 1 X Magnetic Detachable Lampshade; 1 X USB-C Charging Cable |
| Voltage | ‎5 Volts |
| Battery Cell Composition | ‎Lithium Ion |
| Item Weight | ‎0.3 Pounds |
| Number of Batteries | ‎1 Lithium Ion batteries required. (included) |
| Water Resistance Level | ‎Waterproof |
| Brand | ‎HOTO |
| Brightness | ‎180 Lumen |
| Finish Type | ‎Textured |
| Manufacturer | ‎HOTO |
| Part Number | ‎LYD001 |
| Item Weight | ‎4.8 ounces |
| Product Dimensions | ‎5.9 x 2.9 x 1.7 inches |
| Item model number | ‎LYD001 |
| Batteries | ‎1 Lithium Ion batteries required. (included) |
| Finish | ‎Textured |
| Special Features | ‎Minimalist Design; One Button Operation; 3 modes: camping light, ambient light; flashlight; Magnetic detachable lampshade; Hidden hook design; Infinitely Dimmable; 3100 mAh rechargeable battery; USB-C charging port; Portable; IPX6 water resistance; 180 measured lumens |
| Batteries Included? | ‎Yes |
| Batteries Required? | ‎Yes |
| Warranty Description | ‎1 years. |